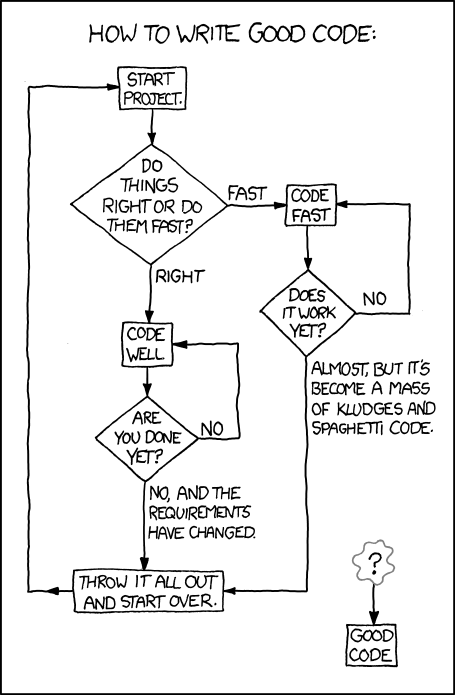 I generally stay away from "postmortem" work, but a client recently asked me to look into what was behind the failure of a sizable process change they had attempted.  I talked with sponsors, end users, members of the project team and heard all the usual stuff.  But it was in an all but accidental conversation in the cubicle of the senior programmer who had worked on the code that the bottom line became clear.
He had the cartoon you see here (from XKCD) printed and framed by his desk.  "We had to either sprint our way through what was a sloppy job or find that anything we built well was obsolete.  It was very frustrating and several of my best programmers have since quit."
We followed the question back the business analysts to find out why requirements were so volatile.  The lead analyst (who has also accepted work elsewhere) was crestfallen about the project.  "It had real potential to make a big difference- but we could never get the SVP to be clear about what she wanted.  We had to build something for her to react to- and her reactions were almost always different every time- as well as different from what her people wanted."
The SVP is not going anywhere but was equally frustrated.  "They saddled me with this project even though I thought it was a waste of time.  My initial thought was to get a planning group to flesh it out and take it back to the COO since it was his idea.  But he was impatient to get the work going and went back to his usual mantra:  'We are a hit the beach culture.  Just get it started. We can build the bridge as we walk on it.'   Hey- he is the boss."
That landed me back in the office of my sponsor- the COO.  I walked him through the entire cycle, starting with the XKCD cartoon and landing on his desk.  He took the news stoically and thanked me for my effort.  That was about a month ago.  I visited him again this week in New York.  On his desk is a framed version of the comic with the number: $19,275,000 and the phrase: "The Cost of Not Listening".
I would bet on him getting it better next time!