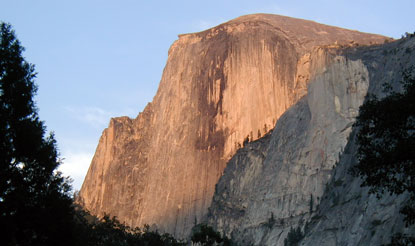 I have just returned from a trip to Yosemite National Park for a hike up Half Dome with my son.  Yosemite has always been an inspiring place.  It is one of the great natural cathedrals on the planet.  Because this trip was grounded in a 17 mile hike to the top of an 8800 foot granite dome, my inspiration was similarly grounded in preparing for the hike.
I found myself comparing potential hikers with project teams I have seen.  It was interesting to try to predict which ones would get to the top.   Sort of the opposite of taking a project team to a ropes course.
The veterans were an easy call.  They had great equipment, all well worn and well packed.  I could see by both their lean physique and the way their gear settled on their backs that this was just another day on the trail for them.  Most were on the trail early before the sun got up.  No question for me that this small group of experienced hikers would go wherever they chose and as far as they chose.
Then there were people with all the slickest gadgets and gear- and all of it brand spanking new.  These people were outfitted with new poles, the latest pack and boots, the coolest Eddie Bauer outdoor gear.  But they more often looked like they were going to a model shoot than on a grueling hike.  These folks fell out fast.  Often times I see this with project teams.  Spending time and budget on all the coolest online tools before even engaging in the work can be pretty wasteful.  Go take a serious hike first and see how you like it before investing in the latest greatest equipment.  I did not see any of these folks at the top.
Another interesting observation is the number of hikers who depended on a specific capacity to sustain them.  Some were poorly prepared for a 12 hour hike- but were clearly relying on great physical conditioning.  Others were not in great shape, but were pacing themselves and had clearly thought out food and water needs on the trail.  There were groups who had counselors or cheerleaders that could hold the vision and keep the group moving.  And there were families who tended to either be a great resource for each other, or bickering unhappy drudges, annoying each other and everyone around them.
Project teams work their best when they are a mix of these.  When everyone shares a vision, is passionate about the work, clear on the capacities that they bring to the team and committed to the team's success as a whole.  It was true at Half Dome as well.  Most of those at the top were well outfitted for the climb, had put some thought into both their supplies and equipment and hiked with those whose presence was a support when times were tough.
Oh… and for those of you interested.  My son and I trained for the two months before leaving, updated some equipment, but mostly relied on good boots and daypacks I have had for years.  We helped each other when it was hard and celebrated with a snowball fight at the top.